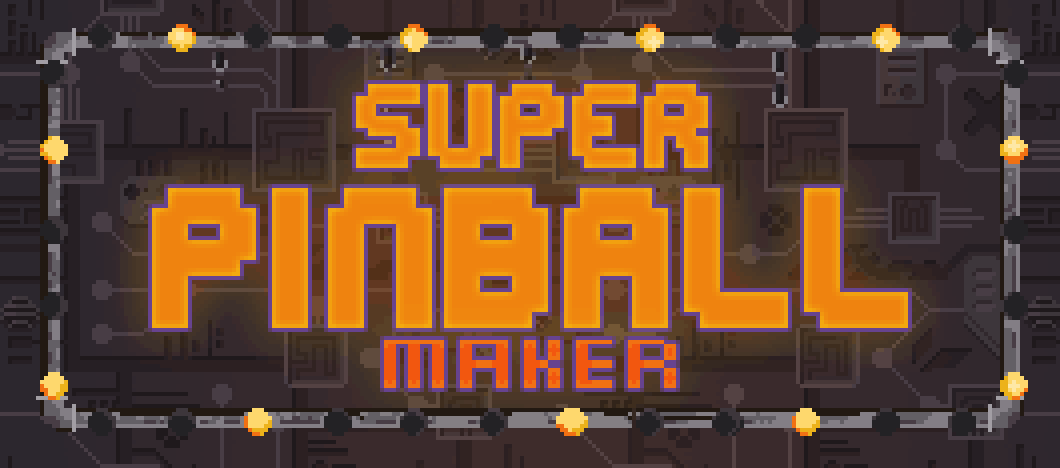 Super Pinball Maker
Pinball, with a twist !


Super Pinball Maker is just like Super Mario Maker but with Pinball.
FEATURES
Make your own layouts
Walls can be **resized, rotated and moved around** to create interesting layouts with railings, ramps and traps!
Place bumpers and other loud point racking devices!
Draw **pixel art** with breakout style bricks on your layout!
Play your friends' layouts!
Share your level on Twitter or via token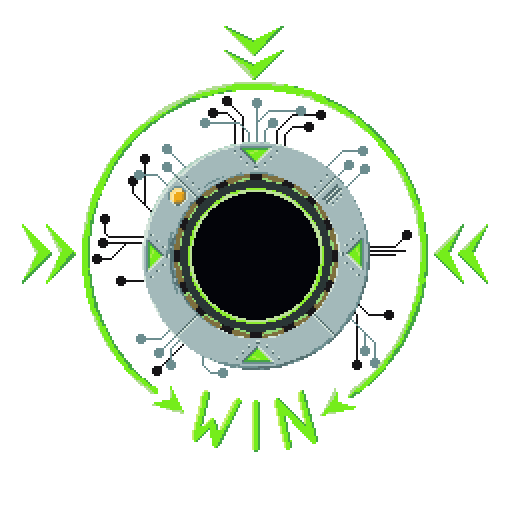 CONTROLS
PLAY MODE ( mouse controls recommended )
Left paddle = A , Left arrow key, Left mouse button
Right paddle = D , Right arrow key, Right mouse button
Shake = W , Spacebar , Up arrow key, Middle mouse button
Powerup aiming = Mouse cursor
Open menu = M
EDIT MODE
Press M for menu and click on edit level
Move camera = Middle mouse & drag , Spacebar & drag
Zoom in/out = Scroll middle mouse up/down
Create objects = Drag & drop objects from the left menu into the layout
Draw bricks = Pick a color from the color palette on the right menu. Select the brush tool above the color palette. Hold down left mouse button to draw bricks.
Erase bricks = Select the erase tool above the color palette. Hold down left mouse button to erase bricks. ( Right click anywhere or click on the selection tool to get out of draw/erase mode )
Object editing
Move objects - Drag & drop ( Hold shift to lock axes ) - Arrow keys to move selected object 1 pixel at a time ( Hold shift for 10px )
Scale walls - Drag the white scale icons on the edges of a wall - Cntrl + drag to scale from the walls center
Rotate walls - Drag the white rotate icon in the center of a wall - Shift + drag to rotate in 5° increments
Delete objects - Press the delete key to delete the selected object - Click the trashcan on the right menu to delete the selected object
Copy paste objects - Hold down cntrl while draging an object will create a copy of that object - Cntrl + C to copy the selected object - Cntrl + V to paste the copied object in the center of the screen - Cntrl + shift + V to paste the copied object at the same position as the copied object
Undo = Cntrl + Z Redo = Cntrl + Y

Follow us at: TackerTacker (Programming & Juice) & DiVeR___ (Pixels & Sauce)
Give us feedback if you liked the game, we love to roll ourselves in it!
Credits
Bitmap Fonts: Zingot
A special thanks to Rexrainbow for his amazing plugins.

| | |
| --- | --- |
| Published | Dec 05, 2017 |
| Status | Released |
| Platforms | HTML5 |
| Release date | Dec 05, 2017 |
| Rating | |
| Authors | DiVeR, TackerTacker |
| Genre | Sports |
| Tags | Destruction, Generator, High Score, ldjam, Level Editor, Ludum Dare 40, Mouse only, Non violent, Physics, Pixel Art |
| Average session | A few minutes |
| Inputs | Keyboard, Mouse, Xbox controller, Joystick |
| Links | Ludum Dare |
Comments
Log in with your itch.io account to leave a comment.
Name: Barrier Breaker #1
?ver001_BIQwTmCeQ_AwOgjMCsBsIExmqaAWEKxwBwD9QJQGZ5Fk0Ns95ho4RCB2SB%2BugThWB0LEnDeht6wNizh0UcQt179x9MCjES4XQj36Qs9WnymxCcHKu1hCkOufnQsQw1VWE0cBmCEJYKNmCq9ZcL1AsBjsjHj4wLGD4NhpwJXpcUGSQZONgU0RtHixYVVB7dTBwSG8FVXQvVl9oRXpIc3QQ6rg2OkjGxmg8kRaicBtiLvde%2B0kByDRCWO0UWEjIHHGwBmg%2BTllEdtWqFLS91NScM3abdcd6BhZCoTdCAzYG1mujA-3DvePDcBD1yOKGi9dh8jm8jgB9Fzg-C0YAADwAtMVCHDsPBEcUUKjtEj0NiQLisWjcWi4Bj4KZ4STtGTqQTiqTycSGbMmTS2fSKZy0WAwBzaSzuey6XSsXSBVySfjMOSUYzCfiFcy8cqeSjxRypWj1YKxYKJarpQbhYKRfqOXqucahTbebL8dbrUqceazVaLWwOeovTquTxNabBYQqcj8YYOWYQ%2BAyZMQK4maiCgmKnBoOSiaAlfhIOTPSmc7i89nc4n4GncQxS9hyTmKsH7XWDaAGBK07GpBKUeNCXRWunLP2YoOe5zxn3cV26FLxpAzBjjjpJvPe6g%2BQru5iByO3IPLeNfctPSPp1PN-RBzuRxKN%2Bhewe4TfJ6O6Fg12eD3fh2fj2eLIOP-ABahuMNjlj44KENC0azqwdTwHQiyRKAZiPLBdDwSAiFYMhUR5FgsYYYsyFnDoDDaIRxzYeAr52NAZEgBRSHgE4yKznwFHgtA4K8qgCgMKAxyPAUTgsJRUT0IwfBidcKD9Dg4IoNxDDTMIbggIJMEsaJigJFYaDHLOBQWPpvBMPU8jHNAhDZMZ6krMARlwFJkTyFYxDHKsQwWFJ4JsNxtTrMAiDgkAA
Name: Shield Smasher
?ver001_BIQwTmCeQ_CwVgdATADAbBYGYAcBGAnJeEID8phShBkhRnxmDGBQiT1OCzIqprobWAHZqVDE8BLnzQ41KBBSCJIHKFK1E3JFWGCGZJQhDAkBWAg34TYEw1PmA%2Bmiv5kaFAA8AtNOhg3ke1Ffv7ft6QSIEeIKEUzl5hEcGxCPG%2B0fjJiGhJKDhWKNlIopL6yHRgmGBy%2BCjACNLAsPClcih5BNzFtcQl2GU4TRVIqNR0VA2aEMBsECqd8HJWINl6JA74PSBIRgjcjmA9MOuI-fqrSEtoSLxZwNkIaLy1MNI93A%2ByJFkQ2WtL-bZAA
Check out the level we made!
Copy the token below ( starting at the "?" ), click on load level in the main menu and paste it into the white textbox.

Have fun !!! and don't forget to share your level as well :)

?ver001_M4FwpmA2DGCGDWYg_AwOgjMCsBsIExmqaAWEKxwBwD9QJTQSRFXU1xUnGCy3AE4wB2EAZkjnc5ysegaMGREhl7UEmcNm5cOccTTrT682XhCgtmjdq27Nh4Ab0mjZ-XvNXLR63ds2LOmy4dunr41%2Bff3fz39fYJ9QoLDAyIcQ8Nio0wjoxIS4pNSU%2BPtMxzTsj1yCjMKs4pyi8pKKssqa6rr8qobapvqA0paOtsau5p7WmLy%2BzoH2obGR7oneqf7k6bnZ9PmlxcGZ4YWNla21zfG99f3to93jw-ODy7Or09vRi%2BvHu8mb%2B9eXp7fPj%2Bfl39Wvv8doCQT9QX9wQCwdCITDFnBgNAuHA2GAwOw5MxmJQJIiuCg4Mi2PA2IowAxmKAwFg2PQCfBoKT8MA4NRyYhSOi4EgyUgqUxWJgqQicKi2QwsLB2Wy4GgwGxjHxEChBWw2Kw4AxBCgGGTaPQIChQJA2FwTQolVr0ZgjeAwDKmd9Yc6oS7gZMlVhmFxJbBbeaNAiUTRaSBIOjUCgyVhhCAGOqaHIGNAyUxBBA2FKoOxgMxUya7WqaBIRRw2Zm6Wx6ZIw7h3m6TpD3Q2Hqd5aIINQi3BmFGOHLCKwCdz4KxoCn666p83p424TOdAq7dT2OOpZB6AxIDgGFSdZilyPuTg0VSq8TM-L2ILEDvhd7uFhqFguJgwDhJdIKewn1yyFucBINECzLehZWtcNeHTU0LyxQUGDNBRJwXOcW2Q1DZ2CMA5QVTFczDLldSkeUOVpXcQGYYkESIpU1VgpgaAgqMqVoNAMDRdhBBRIiODtSBBCrZhBAY7AU3lGUaVkdEE34990NbJsMJQhT5yUtSVLQp1MPkg4eypGABxQYl-QQDTtK05SdIs9SrKBGzrLM5S%2BARFBYHVW1TQxRz7Ls7y-IOT1KOkK9zXQUklQM8BMzlFchV5ISotoVdKzJQgDQVIdQArVKkSiyA0E4eAVX8hzbMUvyEMLLKsGrGqaBTJU0XxYAktyzAU1DCByKNFhOTDPNaM8nrX1DccSt8srVPG8r5PtL9QCMhMEVVYxyx1MLoC5fD5T8bDZXQFEsuJHk5vlOrh2O1h%2BNFfKovjdBgFRONjMe6apsmzSJtK76vt%2Bmafv%2Bv73oB4Ggc%2BwGIdByHwah2GYfh8ywcR6Hkbh1GEcskGMZ88qAH0NzYXH8AJAAPABaLkUBJnsaHJrkNRJ8l2Gp1g2EZriWfgdnmZppm2d5rj4NHWmKaixgw3F3niSZ8VhavGWuYFiWmalrmFd54A6bFuBuYkVU1cEPXte51W2ZV-WFfNkXrWlw3JYtu2rflu3VctwWxaZ525c10Wrx19WHY992-ZNwOvdd6D7et43yzl4lY6NkPE-jsXk%2BVlONa1s2qM5-2qP1mns%2BFvO4%2BLxn8%2B11hk2YLXsNzn36a5p6aZ15vOeb1mSY7%2BAG7Fp7pYvaT2Bt4e%2B9HiuEVrnOnqvGfB77rly9Hv2NV72eh-Xhet9NxeW7X6eR9bjf553xXV6npvjZz2fS5zvetegJeW6fhmQ8LhDa4YTn7S15%2Bj1z6mblc6wB1i3IBYC5aQAviOKQMCqJSmRCAjUCCGTaxAd-eBkDoFSkwW-FBs9AFoLPkQ3mUDfa4Ioag2BOCqGIJIcg%2Bh4AyGH0IcRShcCqHsNYciQhpDoGMx4fLEa0gPbCLYWrYR-tkSCmYczFeasK5FxplTeRJcaYf1FpALsOtRYyC0eQeAWAtb6N9kQeg%2BiMDgDQJoiQsiLHWjMWGagljsKGKcUVLW9J7FWLcd41xejnFch0eiWq7jLH6ICQYiJ5jAk%2BIQMYiQMSomJLCeiaJqS4m92rCTdJbNck5JSTrfRrjySeLkAUuRBUuyMzQHktkcov66LAhUtmQDXGtK5sUhpv8KngOQD4vppB3ElMadJCpCJ2BECyjUnukzZlFPqT3LW%2BAKkqKqWrdZ-iNRgGWegCprioFdOLjs0xBi6k%2BKpkcmm%2BATkOLOeMkm1ZBSbKIEOLktyNnCwseUyxvM2KL38b3GQ-tXkHQMcC1ZjdLFmzlDXJplSDH0l%2BWBN5XzYmFxmeEtkj94XP0sUitJRtflXXRairZwyjE2J8aLAl7jlGN28TTWJETe76OoDS-EYzGUM2oBE4J4tNHCzZsSzpks2a%2B0EIK0W-NWBSrSSST%2BIA5US2VUzQVKJFUSuZqqyV1ouLir1Uqw1BrxYmpVrIvmiqzX6s1caq1iqNVaq1da7VhrHWGudfarV7qBV2u9aM01DqA2WudS6tUiroBwuNS6nanj25As7oeDUAbC7TKttgX%2BrN%2BTMyTYYzNpq03uwzborNBshUJqjqafNHAo04DkNAfKdMcC4zgETKKrlGArngGaE8WB9LZnZPQbtYYNCIC3J2odhIR3UipE%2BW2Xap3bj3FiGgRkQDDu3DO8ADbBTADXRu0daJamojQAe-SrJryanXYu0dpo5CcHRAerdCIkruVAAe3GEBP1elgJRLgJ5ZRoD-SAE8qB0RphA4gJ6wGTzME2hRTyJ5MysBg%2B2FDiHsJagQ-%2BzDsAIMnggD3UAJ4UCfmwkzUDSoCTombZgT9W6wOQZqrU-CsHDwqkg5AZgQTBAnnjIIRjvapCCbHcgSxJ4tH0BE9x0ANJqBIY4iJoyaAlNsEEHJzj44QAaZIyuWUsAAPkQVAZz9kBP2EmcfqXGQA

Nice! I'd like a larger view and theese controls to add:
L[Ctrl]=LFlipper; R[Ctrl]=RFlipper; Up=Shake; Down=Launch.

Thanks for the feedback tito76,
We increased the viewable area and added Up=Shake, but we didn't add the other controls you requested.
Here is why, Super Pinball Maker is based on pinball but is not a pinball simulation and requires a different control scheme.
You need to have one hand on the mouse at any time to use the laser- and ( later in development ) other powerups.
Down=Launch is just redundant since every left and right flipper control can be used to launch the ball and adding it anyways would take away one easy reachable button we might later need for something else. Up for shake makes a lot of sense though and we also added W,A,S,D or better W,A,D as an alternative to the arrow keys.
I hope you check out the new update and give us further feedback.